I told you all about my plan. I have been working on my demolition, as promised. (Sadly, I seem to be coming down with something AGAIN, which typically means that I put in a full day at work, spending the afternoon with a splitting headache, and then come home physically exhausted, unable to accomplish anything more impressive than folding a load of laundry - when in fact what I need is to knock out two hours of hard labor. Which is not so bad. I'm young, and I need more exercise than I get sitting at a desk. But if I'm sick, I'm not so useful for manual labor. This is seriously threatening my closet, and I am displeased. I need to come home with massive amounts of energy if I'm going to pound this project out.)
But I'm not done whining. You know how I was having a debate about a linen press? (In my last post.) Then I was catching up on
a home tour with Layla
today, and I saw this: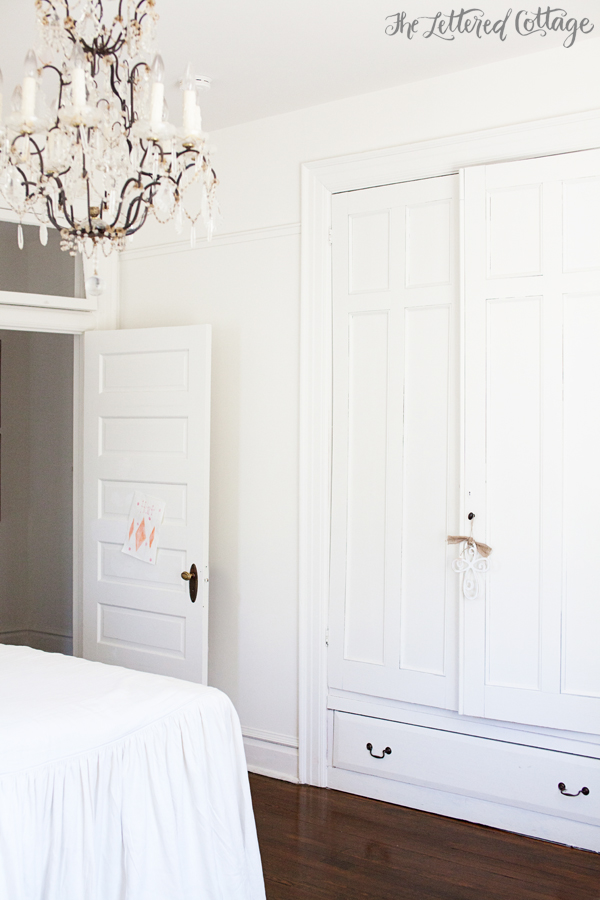 And I feel I cannot go on with any plan that does not involve having one of those myself. Even though I have already bought a light and conduit and studs and have started breaking and/or sawing things in earnest, my (quite elaborate) planning process ground to a halt when I saw that photograph.
I cannot say for certain whether that is a linen press (it certainly could be) or merely a century-old built-in closet in a gracious Southern mansion, but
I must have one
. The wheels (feverish wheels, riddled with headache) chugged into gear. I don't really want to reverse the work and plans I've already made for the new master closet. Also, this would not be large enough to hold all our stuff. Also, it would infringe on the headboard space in our room. It is not an adequate substitute for the shimmy-in (as opposed to walk-in) closet I am working on.
But I could have it somewhere else. I could, for example, build something like this into the space where the tall dresser is now. It would be a built-in, and I have already pondered the possible problems with a built-in linen closet in the second bedroom. Of course, I could use it as a linen closet myself, and let any future buyer imagine it as a built-in closet (so what if that room has two? It had two when we bought it). Or, I could build it into the hallway somewhere? It's not small. And the not-smallness is one of its most attractive features, so scaling it down would not be a solution. And the hallway doesn't have a lot of space for building things in (something I have been vaguely contemplating for a while).
I should also clarify that, when I say, "I could build one," I mean this in the sense that I built most of my kitchen cabinets. I can make the shell (recessed into the wall, presumably) and paint it. I can steal a drawer from a solid-wood dresser with nice edging and paint that, and I probably could build a box and drawer glides for it. I can find some nice pre-milled molding to frame the cabinet out and install that, too. But for those doors, I will need to find some real antiques at salvage. Too bad I didn't buy these things when I saw them originally:
The giant arched things, not the glass-doored cabinets. (Although the cabinets also captured a considerable amount of my interest. I wanted them for my bathroom. Or maybe the laundry room/pantry. The set of three was $675.) Granted the giant arches are so large that they would swing out way too far. And they are not a natural shape for a door and might need a rectangle built around them. And they are glass, of course, which is not necessarily what you want on a linen closet. And they were several hundred dollars apiece. Even so...