So
I mentioned before
how I was having trouble finding lighting for a particular spot in my kitchen. This one:
Though that picture is helpfully illuminated by sunlight (obviously the best way to work at the table), sunlight is not always available. Originally, I wanted to hang a sconce on the wall right over the window:
It's just a smidge of wall space (as you can see on the left edge, the window frame goes almost up to the ceiling). Such a sconce would (I imagined) light both the work table and the little shelf under the tea/coffee cabinet to its right. I also contemplated a pendant light over the work table.
Then I actually decided to go ahead with a sconce attached to the side of the tea/coffee cabinet. My plan was to convert the four-socket electrical outlet (below the cabinet in the picture above) into a two-socket-plus-light-switch combo. As a matter of wiring, this is not difficult to do. I would also need to run the wires up inside the wall from the outlet to the back of the tea/coffee cabinet, at which point I could bring them out of the wall and run them through the cabinet and into the fixture. Running wires into the fixture through the cabinet also isn't that hard (I had already done that once). I imagined that this sconce could mirror the other one:
That's quite an old picture, of course. Here's that wall now:

Anyway, the sconce #2 project barely got off the ground, for the sad and pathetic reason that I could not physically force the wires through the wall cavity. It's an exterior wall, which I am sure (through some mysterious mechanism I cannot really picture - such as, it's full of unyielding material) is the reason for the problem. I only needed them to run about two feet and I could have made the rest of the project a success (and I had already cut a big hole in the side of the cabinet), but no. So, I didn't get to have a sconce there.

Granted, I'm not sure what all the fuss about tons of lighting in the kitchen is anyway. I've never found that area too dark to work in (the room's central light fixture is very bright and fairly high overhead), and indeed, I've never found any kitchen too dark to work in as long as the main light was on - and I have bad vision. But I can see that, if, in theory, the room needed more task lighting, that's where it would be most needed. Also (and this may actually be my motivation - I haven't sorted the matter out), I think that wall (tea/coffee cabinet, shelf, window, work table) needs aesthetic resolution. I think a valance or cornice might be the item to tie the room together, but while I ponder on that (with your help - stay tuned) lighting might help, too.

I next moved on to attaching a light a little lower - about midway up the window, in the space between the tea/coffee cabinet and the window. Of course the radiator pipe is massively in the way there (old photo):


So I mused on attaching some sort of (attractive?) clamp-y thing directly to the pipe - it's not going anywhere (sadly) and it could hold a bit of weight. My Ikea solution for this
failed to pan out
. Then I decided I was overthinking things and I should just get a sconce for the wall. I bought a vintage sconce for the ludicrous price of $1.50 at a local second-hand place:

And it won't fit behind the radiator pipe. (I have to say, I really enjoy that my typical home improvement story is 90% failures and maybe 10% "this finally worked!" Arguably I am wasting people's time with all this information, but I am trying to be accurate. This is the true story of my kitchen lighting.)
I can't think of anywhere else to hang the vintage sconce just at the moment, but I am convinced it will nevertheless turn out to be $1.50 well spent. After that I was briefly stymied. Also I was distracted (by Christmas). But in the last week or so I've returned to my around-the-house to-do list, and oddly, that seems to involve an awful lot of sconces. (I hung some brass candle sconces over the mantel in the dining room, and I'm working on some bedside sconces for our room. Those involve an Ikea hack that I'm pretty pleased with so far. I may even take pictures and share them. I'm so delighted when I do something clever and it
works
.) And of course this brought my attention back to the un-attended-to lighting on this wall. And then I saw
a post from the Thrifty Decor Chick
showing where someone
made
a sconce with a wall bracket:
And I thought, I
totally
know how to use wall brackets. And where to buy them. I would go a bit more ornate and less industrial, to fit with my kitchen, though that one is really cool. And then I started looking at wall brackets...and the wooden ones were maybe not quite fancy enough...and then I saw some metal once that were not
nearly
fancy enough...and suddenly I remembered about swiveling wall brackets (don't ask me where I'd seen these before; actually, I may have been contemplating them to attach the antique oil lamp I wanted to use for the powder room, which turned out to be impossible to turn into an electric light. Why does it take me so long to figure out that an idea from one project could work for another?)...and suddenly I was on Etsy looking at antique wall brackets.
And then I found my credit card in my greedy fingers and I bought one:


Isn't it pretty??? After much deliberation, I concluded that the off-white color would go better in my kitchen than some other options I saw. And - bonus - it's already got some visible (real) aging. I was generally leaning toward raw iron or black-painted iron ones. And I was particularly tempted by this one: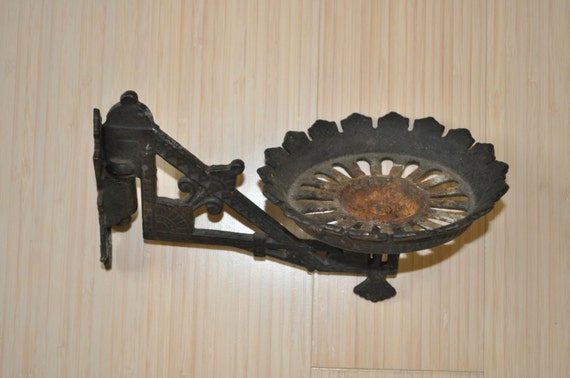 Because it's in an Eastlake style. And Charles Locke Eastlake (and his school of furniture-making disciples) was turning out home furnishings during the time my house was built. And, in fact, their Aesthetic Movement favored simplification of Victorian style (and my house is a very simplified carpenter Gothic, as I have recently confirmed), and Gothic Revival (again, the style of my house) was the only architectural style the Eastlake tribe considered "acceptable." So I know any Eastlake pieces I pick will be period- and style-appropriate. (I already have a little bit of Eastlake-style furniture, and I'm considering it for anything else I might need to buy later.)
On the other hand, now that I've rebuilt it, I'm not entirely sure what style (if any) my kitchen most belongs to. There just aren't enough historic photographs out there for me to learn this in all the detail I'd like. So I can't decide whether the Eastlake sconce matches my kitchen. Nor whether the more ornate one does! What I am sure of is that the ornate one is pretty, and that its ornamentation will make it easier to wire. (Note: it will not be possible to
conceal
the wires, but they will be less conspicuous than the ones from Thrifty Decor Chick's example, just because of the style of the sconce.)
By the way, if anyone else wants to do this, there are lots more sconces on Etsy.
This one
in particular appears to be the twin of the one I bought, but in the original black.
The swiveling feature of the sconce is obviously a huge boon for purposes of lighting both the work table and the under-cabinet shelf. Of course, I won't know until the precious treasure arrives whether or not it can actually swivel around the stupid radiator pipe. But given the dimensions of the bracket, I'm confident that it will at least be possible to attach it. (And of course, turning it into a wired fixture will be a whole 'nother adventure, involving lamp kits and a glass cutter, at a bare minimum. I am already totally overconfident about the outcome of this project.)
To be continued...