Maybe. Sort of.
Many thanks to those who provided their kind insight, by the way. I didn't, in fact, end up buying any of the lights I included in my last post. (Though I still might...more on that in a minute.)
As you know, a major part of my problem had to do with even figuring out what sort of thing I was looking for. I knew what I was smitten with, but I was losing track of why or whether it was a good idea. I pretty much fell in love with every pendant light in design photos that looked like these:
(photos from houzz.com - like most of my inspiration photos)
(If you, too, yearn for such lights, I suggest you look into
this one
. You don't want to know what the ones in those pictures cost. Trust me.)
So first I offer you The Best Light: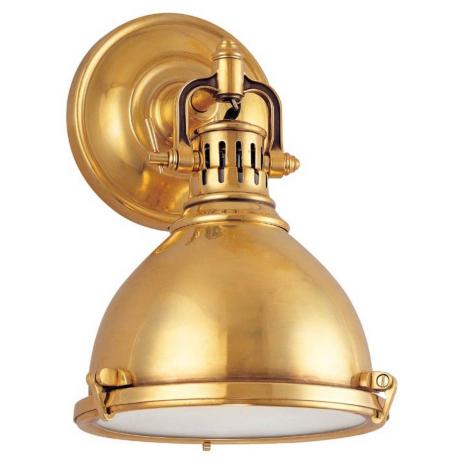 Yes, Virginia, all that magnificence does come in sconce form. Only its price ($400) was not wonderful. I went through the appropriate period of mourning and let it go.
Next, I offer you The Light I Was Planning to Buy:
It is convertible from a pendant to a sconce, which is awesome. It's iron, which is a beautiful but not trendy material. I still think it would have been an excellent choice. It's $42 from Amazon, but if you buy direct from the seller, it's $35 (with free shipping if you buy two or more).
Next is The Light I Probably Should Have Bought:
It's just $18 apiece, and has free shipping. One of my selection problems was
that I was losing the ability to sort out what looked historically appropriate to me and what was just catching my eye. Fortunately I had a chance to visit some friends who have a historic kitchen that's original to the house, and I saw their wall lights and realized what I should be looking for. However, I think this sort of light is intended to go at eye level or a little lower (right over the countertop), and I am definitely looking to install lighting overhead, to illuminate the surface below.
I couldn't buy those anyway, though, because I found them about ninety seconds after I clicked "purchase" on...The Light I Bought:
I don't know - maybe it's too industrial or outdoor-looking to look really right in an antique kitchen. (Of course, not every item in my kitchen will actually be an antique.) But it's shiny copper. It's the only shiny copper sconce I found. And I do love the shape. I'm afraid I have to be a smidge secretive, because, you see, it's not an affordable light. I found one at a very substantial discount, but I need two. I am only ready to install one now, so I gambled. But if I'm going to win that gamble, I need to be the only person looking for a second one in a few weeks when I need it :). (So, the .5 people who are reading - please don't buy my light. For a bit.)
And of course, the day after I bought my light, I found The Marvelous Light: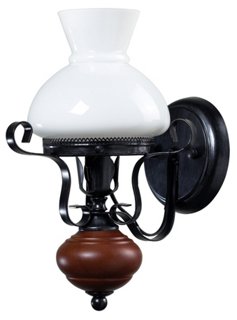 (From One King's Lane.) It has opaque glass (I hate that fake alabaster stuff); and it's black and white, not oil-rubbed bronze (enough with that already!), so it is timeless. It really does have an antique look. It is not cheap, per se, but for designer lighting, I have seen so much worse. And i
t also comes in a pendant version, which is also lovely.
I've been thinking pendant-or-sconce options might be useful for me, since I think location #2 would work with a sconce, but I might be wrong and it might prefer a pendant. So, here is The Light I Might End Up Buying After All:
It may look familiar :).
Anyway - next adventure: rewiring things to switches and circuits. I know, I know, it sounds insane, but the internet says it is not that bad. And I actually know how electricity works on an atomic level, so once I look at the schematics, I really do get it. (I hope.) Yes, I am going to buy that tester thingy and make really sure that the power is off before I grab wires with my grubby fingers.
Wish me luck!