It goes without saying that I am not done with really really antique wallpaper. I have continued searching.
First, I had to share this image that shows the proper implementation of the full-wall design. I thought you'd all be glad to know that my idea of putting a big, dark-colored panel design between bookshelves was right on:
I just adore those full-wall French prints, but I can't possibly afford the original ones. Letting the idea go is not an option. So, more research.
I will admit I had some challenges. Most contemporary wallpaper murals are photographic - huge 6 x 9 foot prints of a closeup of a dew-drenched rose, or something. Interesting for a stark contemporary highrise apartment, maybe, but not for an old house. So first I had to narrow it to art-type prints, rather than photos. And there are lots of reproduction wallpapers out there, but I've seen zero reproductions of full-wall non-repeating prints. We'll have to work with a modern image library.
First, I addressed my favorite of the three - the pretty blue with the climbing vines and birdies. In case you forgot what it looks like:
The print is a century old at least. I bet you didn't think I would find anything even close. Ha!
I found a
number
of
possibilities
, but I think this is the closest I got: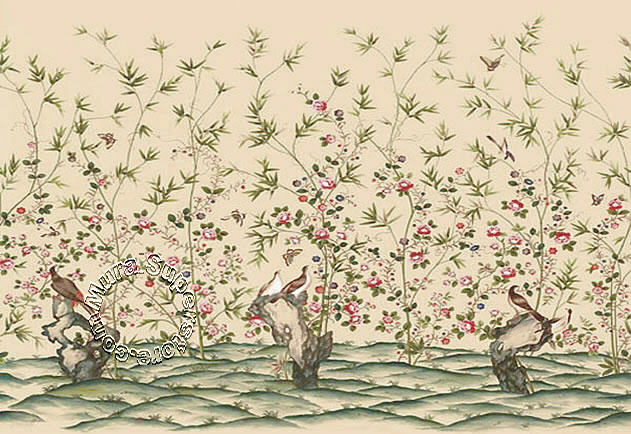 It's
definitely less than $6000
. It doesn't have the beautiful blue color I liked in the original, and is missing a certain delicacy in the vines. So I think I might give it a pass. But if someone wanted to do period wallpaper, I think this would fit perfectly.
But you'll be relieved to hear that I
did
find a couple of things I do find persuasive as a stand-in for the blue floral.
This
, while not quite as on-the-nose with the blue as the one immediately above, I like better (though it's twice as expensive):
And its warm ivory background would make an attractive paint color for the other three walls, I think. Definite potential for a bedroom. (In fact, a bedroom that could
become
a kid's room in the event of a miracle, but is of a style meant for adults.)
Another substitute I considered for the blue floral is
this
. It also has a fabulous antique/Victorian/Chinoiserie look. I
love
the colors:

Its height indicates a half-wall. The cloudy soft blue at the top would be a great color for the top half of the wall, and I might be able to paint something that looked like a match for the mural. But then there would be a wallpaper seam in the middle of the wall! I could lay a strip of white chair rail over it plenty easily, and chair rail would be fine in a bedroom. But...I'm just not sure about mural below the chair rail, sky painted to match above, and then three walls with a coordinating blue (no painted sky though) with their own chair rail. Would this work? Would it have been done in days of yore? Can't get it straight in my head, so I'll keep thinking.
Of course, I can definitely picture a Victorian dining room with dark-stained wood wainscoting and a half-mural
above
that. The peacock would work well there, and I think I've seen some other things that would too.
OK, back to the French murals. You remember this one:
I was less successful with replacements for that, frankly. Is
this
sort of a similar idea?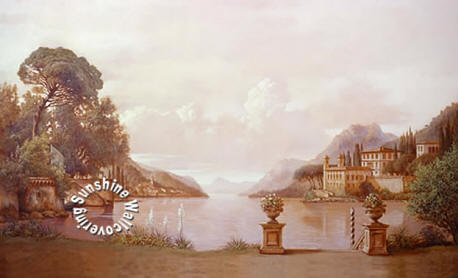 Not really, you think? Too clearly refers to the contemporary decor fascination with Florence and Tuscany? Too should-be-in-a-frame and not wallpaper-y enough? Well, it was a shot.
What about the red-on-cream engraving print? This one:
OK, I didn't find any engravings. But I did find things that had a similar personality, the feel of the right era, and would also form a big largely-monochrome rectangle for an area between bookshelves. There's lots of variants on this theme at all the wallpaper stores, but
this
was probably my favorite (and very affordable!):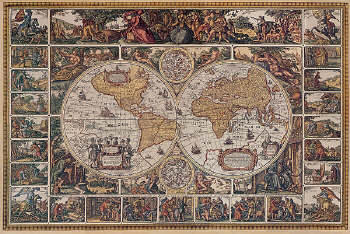 Oh, and other fun with nineteenth-century wallpaper: William Morris prints. Apparently he was the father of the arts & crafts movement (no, not scrapbooking. Like old houses with lots of medium-brown wood trim everywhere? Window frames that match staircases and door frames and doors and...well, you'll know it if you see it. Those are arts & crafts movement architecture. There was a lot more to it too - it was generally a movement away from the factory-produced decor and art that were becoming common in the late nineteenth century in favor of products handmade by artisans). That's a few decades too late for this house, actually, but he did lots of cool stuff. For example:
I think my dh would actually like this - the Irish color scheme wouldn't hurt! Whereas if I put a peacock mural in a bedroom, he would probably
flip
. That's why it's important that I buy and redecorate a home while he is still traveling for extended periods at a time...
And - would you believe these are
anemones
? Seriously:
Oh, last thing I found. If I redo a bathroom I want to put in a clawfoot tub. But what if it already has a porcelain tub in good condition? I wouldn't throw something like that out, but if it's the wrong era for the rest of the house, what to do? I think I may have found my answer:
This brings together all the right elements for an antique bath beautifully.
OK, happy home decor daydreams. At some point, I shall have a ttc (now with tmi!) update, but for today, this space is G-rated.