And I meant it at the time.
But then I was searching real estate listings - naturally, I have to look every single day to see whether any new listings have appeared in my town. It turns out that that "watched kettle" adage totally applies to the real estate market, too. And then when I'm terribly disappointed at the absence of a single new listing (even one outside my parameters) I have to go look in every available area until I feel less disappointed. Sort of compulsive behavior, isn't it?
Yeah, anyway. So I always look on the Maryland side first, where my town is, and then if I don't find anything intriguing I look on the Virginia side, where I'm pretty much guaranteed to find nothing (has to be affordable, old, and somewhere near the city, and not in the ghetto - this is an unavailable combination in NoVa).

Except today. See: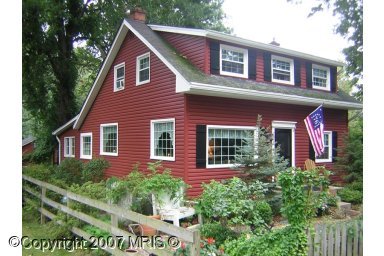 It's a foreclosure, so it's actually affordable - not within $100k of affordable, but really and truly. Admittedly it doesn't have a separate attic and I don't see any radiators in the interior photos. BUT. It does have gas heat (more economical than oil, as my tan house has); it has a basement; it has hardwood floors throughout (unlike the tan house); it has four bedrooms and two full baths; and it has a living room and a family room and a study, and a first-floor laundry. And - get this - the kitchen already has almost all the things that I (but only I) would put in a kitchen if I had to redo it myself. Look at that vintage farm sink. And the old cupboards. I think I even like the green (I might replace the floor, though):


It also has some things I totally was not looking for at all. Like over half an acre. And a barn. What couldn't I do with my own barn?
Of course there are drawbacks. It seems to be in a nice residential area (haven't seen it in person yet) but the nearest Catholic church underwhelms me severely. It's only seven miles from where I live now, so still close to all our friends, which I guess is good. And it's closer to my dh's work than where we live currently. But...it's more than twice as far from my work. More to the point, it's also nowhere near the metro or commuter rail and I think I would have to take three different buses to get to work and it would take 90 minutes to go 12 miles and I would have to open a vein in short order. It seems so close to where we are now, but really, it would never work for my commute.
And the most important drawback is the one you already know about. It's not in my town (nowhere even close, and wrong state). It's in a nice area. Safe. As far as I can tell. But whatever. I wanted to move to my town and get everyone I love to move there too and take it over and have someplace to build a little community and love my house and provide hospitality to my family and enjoy the parks and the scenery and the lovely historic-ness and I just don't know that I can let that go. And what if my dh gets a job somewhere totally else than where he is now? Then this location might be awful. And the house is only OK if the location is OK. It's not like my town, where it's reason enough to get a different job just so you can live there. I love my town. I want a house there.
On this subject, sort of, not really, a design blog I'm fond of had
this fabulous profile
that you absolutely have to go and read and drink in all the pictures from and I love at least almost all of the stuff in this guy's house, it's amazing. Here's the quote (from the homeowner) that sold me lock, stock, and barrel:
Like a lot of other people, I started off with a lot of my family's castoffs, but that tendency to shelter has come to include a huge variety of things, animals, even people. Many people have called this place home over the years, if only for a short while, and I think the place absorbs and reflects those energies. By and large this apartment has become something of a refugee camp for Things That No One Else Wants. I am one of those people who thinks if you love something, you can find a way to incorporate it into the mix; if something speaks to me, there is always room in my inn.
Yes.
Anyway, the short story is, I have no idea what I'm doing with myself. And I want a home. But my dh wants to go and see the red house, so...