I am not done with my home decor bombardment (or even approaching done). All of these items are for sale in the DC area (except the showrooms, natch):


It looks blue but I think it's green. It comes with a matching kitchen table and four chairs (including the one in the picture). Plant not included. I would like it better bluish and slightly less shabby chic, but it's handsome, no?
Is it wrong that I really want a
pie safe
? Because I really do. There are obvious complications with this idea - the technology (i.e., no refrigerators) is
really
old (when in the nineteenth century they stopped using them I'm not sure), but that means that they're hard to find, and consequently really expensive. (This so-so specimen - well, maybe it's the picture that's so-so - is $200 on Craig's List, and that may be the cheapest one I've seen. And I do not spend that much on furniture.) More to the point, houses that age are even rarer, so it's unlikely to fit with a house I buy. Especially if it's a late-nineteenth century ornate Victorian. Um. Also, one tends not to have random extra space in the kitchen - but could I bring myself to use a pie safe for storage, thus making it productive square footage? Oh, the torment.
Speaking of pie, if I
do
get the "my house" of many recent postings with the little tea nook off the dining room, wouldn't a pie-crust-edged tea table be perfect? I believe they date from the early twentieth century (which would be right for the house), and their tops flip down to a vertical position for storage and so forth. So it could sit in the window for tea, or be moved out of the way and its two chairs cannibalized if there were a lot of people around the dining table. I won't tell you how much this one is selling for, since we're talking about a table around 30" across and there are limits.
I have to share this picture, too. I must admit I am disappointed in This Old House; there's nothing wrong with showing a modern-influenced kitchen or two, but it's This
Old
House, and one of the articles proclaims "How to Design a Modern Kitchen" (why would I want to do this in an "old house"?), but there is no companion piece on how to design any other kind. And I don't see any pieces about how to restore the original oven, or integrate hearth cooking into your floor plan (OK, that might be extreme), or why the original cabinets are the most attractive possible ones for your kitchen, or how to do countertops and flooring that would be appropriate for the house's age. Which I think would be a boon - I am
weary
of oohs and ahs over the cookie-cutter "beauty" of contemporary kitchens, and if people could see that designers could make period-compatible kitchen finishes beautiful, they might have the courage to deviate from the Law of Stainless Steel and Granite, and dabble in a bit of historic restoration that can only be good for the soul.
(Takes deep breath.) Anyway, with all those concerns stated, though I don't see why it
has
to have modern touches, I think this kitchen bespeaks some timeless loveliness about kitchens, such as the fabulousness of sunlight, and the ever-appropriateness of sunny colors, and also the virtues of white cabinetry (which
is
an old-fashioned idea), and vintage handles and pulls. Oh, and I like the butcher block, but I don't think I could have hardwood in my kitchen. I spill
everything
.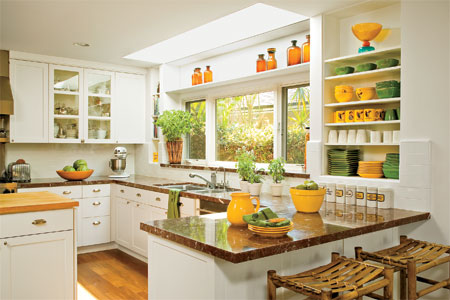 The seller is calling this a "European Armoire" - it has a clothes-bar across it so you can hang things. I think I need a dozen. (I am ignoring faint misgivings about how the clothes themselves would be too visible, and the difficulty of getting a wall-mount to support that much weight.)
I have lots of concerns about the cost of materials here, and the wisdom of reconstructing an outside wall of your house so you can have windows over the bathtub (a proposition fraught with peril in any case). But it's a worthy source of inspiration, right? I mean, it's beautiful.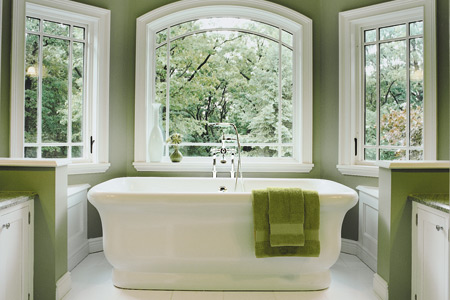 These 2" Carrara marble hexagonal tiles would make the loveliest bathroom floor (or maybe fancy shower), right? Too bad they're insanely expensive. Even the extras somebody is
selling on Craig's List
are $15 for a 1SF sheet:
On the other hand, you can get 2" unglazed white ceramic hexagonal tiles (like the ones they originally used in bathrooms) for $5.86/SF
at the Home Depot
(and sometimes they go on sale).
Anyway, my scheduling on the tubing trip was poor (and though I felt mildly guilty, I refused to relinquish my Sunday open houses. Of which there will be pictures!). So that will happen on another weekend. In the meantime, we're off to see a Smithsonian exhibit for the afternoon with our excursion-planning buddies, so there will be a brief interruption in the home decor programming.
To be continued...