For anyone I know who's seen this skit, "I've got a fever. And the only prescription is more cowbell!" never fails to inspire mirth. For those who have not seen it, well, you cannot go on until you have done so.
(Nasty SNL...
this
is the only version around, and it won't embed.)
In my case, I'm not sure the cowbell will be enough (though it's already got me smiling). I have taken my opportunity to live in a hotel room for a week to...watch HGTV until well after 2AM every night and eat half a package of grasshoppers in an evening. Needless to say, I feel exhausted and decidedly unwell. I can't quite explain what possesses me to stay up later...and later...and later - even when I was forced to do so the previous night by a project I had to finish and
really
needed to get to sleep early. It wasn't a matter of just losing track of the time; staring into the TV and my computer, I could see the minutes tick by, and knew I had to be up at 6:30. I am cautiously hoping to mend my ways this evening, but already I can feel the tendency to watch each
next
show to make sure I don't miss the
really
exciting one, and as it becomes later, I get more notions of things I should look at online...
Insofar as there is a lighter side of this madness, it is that I have some inspirations to show you. I stumbled on "
28 Ways to Customize Your Kitchen for Less
," a true gem of an article (add This Old House to my list of addictions. I love the show too. Unlike HGTV, it prizes real history, not "historic-looking," and the craftsmanship is expert - rather than just showy design. Not that I don't also love HGTV...). By the way, I want that copper stove, in case you couldn't guess.
And I found a number of magnificent ideas that I
will
be implementing in my future kitchen. Such as this absolute fabulousness: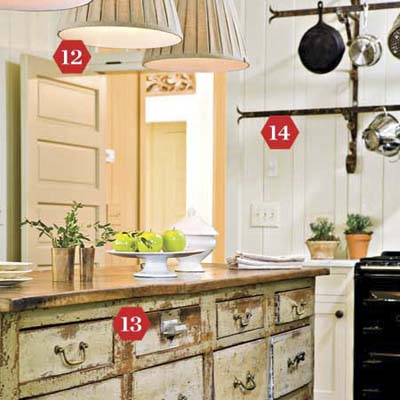 It apparently is a "country store seed and bean counter," which they believe could be obtained for $800 and up. (While I am sure that's true, if you can't get one for under $400 if you give yourself six months to look, you need an intensive apprenticeship in advanced shopping.) I may be particularly enchanted with this idea because in the hypothetical kitchen in my mind (my abstract future kitchen, before I found the house in which I wanted to put it), I had long thought of using an antique table with a butcher-block top instead of an island. I'm not really in love with islands as prefab items embedded in your floor.
And you can, for real, find things just like they have on TV. For example, on ebay, a Denver seller is offering a 4 1/2 foot wide apothecary chest, apparently dating from 1870 - for $2,885, which I believe qualifies as $800 and up. It's really quite nice, and would make an awesome island:


(This one, selling in Missouri, dates from the 20th century, costs a mere $2400, and is a whopping 14 1/2 feet long.) Oh, by the way, I'm not conceding that I can't beat $800. This is just an initial cut on the internet.

So, anyway, I'll keep an eye out whenever I'm in an antique store (and there are several non-annoying sorts on the outskirts of Charlottesville that I am planning to explore soon). But, it occurred to me that I don't necessarily need to restrict myself to something that unusual. While the feed store pieces have a huge wow factor, antique sideboards are much more widely available (and thus more likely to be findable from the right era and in a decent price). For example, this is driving distance from my house, and selling for $275 (or $375 - it seems to change periodically):

You know, it looks very Target-pressboard-with-laminate-finish here for some reason, and it's actually wood and really old. It has cool original-looking handles



and looks as though it would be handsome with the current top replaced with a nice piece of butcher block (FYI, Ikea appears to be the place to buy butcher block slabs at an awesome price). Oh, and since in my kitchen, there's a wall that needs lower cabinets (for some reason they put a washer and dryer there, right in the middle of the kitchen, at the expense of almost half the possible counter space), I figured I could fit it with little caster wheels, so it could be against the wall most of the time, but elsewhere for intensive food prep that might need a different floor plan. Holidays, or something.

I guess I have some non-fictional-home-remodeling-related musings...I've been having trouble keeping track of where I am in my cycle (the answer is CD27), in part because it requires some form of multivariable calculus to figure out when I ovulated. (My temperature definitely spiked at some point, so I guess that rules out the simple answer that I never ovulated at all. Also, it would be hard to skip ovulation on tamoxifen, right???) Anyway, because it's really so unclear, I'll just spare you all my calculations and say that peak day was about June 11. Yesterday, I was positive I had just a bit of super-light pink spotting - just once. I was surprised - I didn't think it was due that soon, but I actually had to look it up and do the math. It would have been p+9, and I don't remember ever having a luteal phase that short. (Usually around 12 days.) And I felt some mild cramping - you know, the "the real cramps are coming, endo lady" cramps? I took one Aleve. In the ensuing 24 hours, no more spotting - not even the faintest color. And no more cramps. So I think maybe I imagined the spotting? I get confused easily, it could happen. Er.

Anyway, I already did the math on the implantation pain or spotting or whatever that is (in case you were going to suggest it), and it's supposed to happen around 5dpo, so, no dice. Also, yesterday morning, my temperature was 97.7 - my standard pre-ovulation temp, which means definitely not pregnant. Of course, I got approximately three hours of sleep, but that's supposed to be the magic number for your temp to be reliable, right? Oh, yeah, and today, I got up an hour earlier than I do on my regular schedule at home, also after, um, about three hours of sleep, and my temperature was 97.4. Which is really weirdly low, not sure if the hour difference would explain it.

So, tonight I will get a decent amout of sleep. If I have a temperature tomorrow of 99 or something, either I have developed Defective Mysterious Ovulation Disease and am running an actual fever, or I get to delude myself about pregnancy until, I would say, Saturday at the latest. Don't worry, even if they lock me up with a serious case of imaginary remodeling mania, I'll let you know when CD1 rolls around again.